Description
Highlight
Microphone records and has a playback feature

Includes 18+ melodies, 10+ sound effects & 50sec automatic shut off

Batteries included

Recommended age: From 18 Months & Above
WELL MADE
This is a fun voice changing and recording microphone toy. It is really well made of hard plastic, and lightweight easy for small hands to grip. The volume is perfect, it's not annoyingly loud like many other similar toys. The play back is clear and precise.
RECORDING FEATURE
You can use the microphone to record your voice and play it back over the speaker. It can record almost 30 seconds. Kids love to play and sing with microphone.
MUSIC AND LIGHTS
There are play music and cheering buttons. Kids love sing and dance. The songs it plays are so fun for kids to dance around to. It's really fun to have your little baby come up with words to the rhythms. There also have lights, The color changing feature is very catchy.
MUSICAL TOYS
Developing Kids Learing Ability:Early learning center teaches toddlers to sing and learn musical toy, Interactive toy is perfect for infants and toddlers; toy features on/off switch and different volume controls.
FUN TOY
it is so much fun for children to play with. The different functions will thrill kids grab attention. This is just a perfect little toy and also small and easy for mom to carry on trips. It came with nice box so it's perfect for giving as a gift.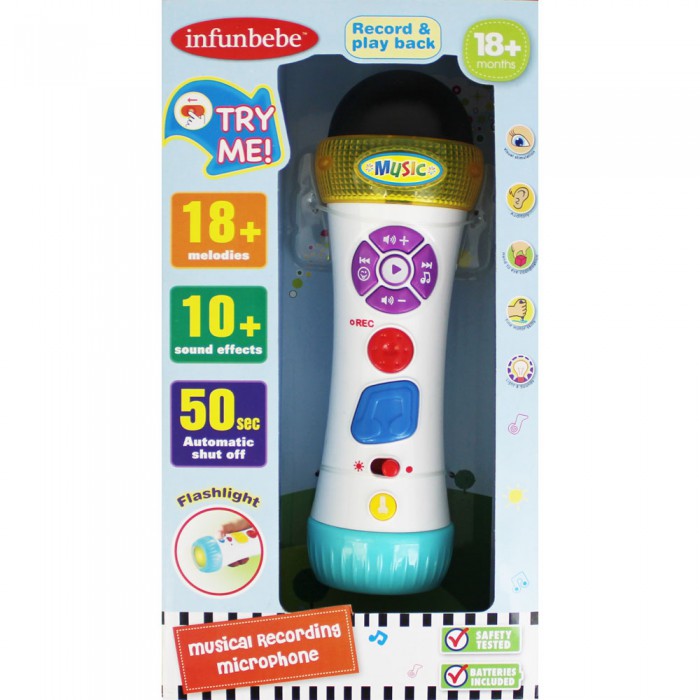 What's in the box
1 x Infunbebe Musical Recording Microphone (18m+)